We are a faith community for all ages and stages of life. We seek to help people grow and mature in what it means to follow Jesus Christ in all aspects of their lives. We are an outward focused congregation striving to love and serve the world beyond the walls of our "church". Through worship, service, and learning we practice our faith and share God's grace in our lives.
We are a Lutheran Congregation with a variety of ages, backgrounds and passions. Our rich history in Rhinelander is an asset that helps us make connections with the neighbors we live with.
We welcome you to be a part of our faith community and join us in the mission we share in Christ. For more information, to get involved, or to learn more about our activities and ministries we hope our website can be a first step for you. Please contact us if you have questions. We would love to help you get active and engaged with Christ and His Church.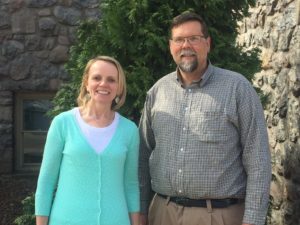 Team Pastor Kari & Lead Pastor Tim Vadis
Our church office is located on the first floor. Enter through the parking lot doors and go up the stairs. Office will be on your right.