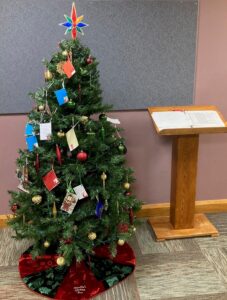 Would you like to make a difference for someone in our Rhinelander community who might not receive a gift this holiday? This Christmas season you can help by picking a gift tag from the Giving Tree, which is located in the Gathering Area at Trinity Lutheran Church.
The Giving Tree is an annual project for Trinity Lutheran and coordinated by volunteers. Tags are hanging from the tree with gift suggestions from those in need this year. Simply select a tag, write down the tag number or the sheet next to the tree and return your gift to church by December 12th.
The gifts are sorted and will be delivered in time for Christmas.