Become a New Member and join us in our faith journey
At Trinity Lutheran Church, we believe that joining a congregation is essential to living a life of faith in Jesus Christ. Jesus called people into community and commissioned His church to be a living witness in the world. It is our mission to help people of all ages become active and engaged followers of Christ. Here is an overview of how you can come journey with us.
CONNECTION GATHERINGS are held twice a year –once in the Fall and once in the Spring–to
ATTEND: You are encouraged to worship with the congregation. By attending worship services you will get an impression of our congregation. It will allow you to hear our pastors preach the Word of God from a Lutheran perspective. You will meet other Christians who are following Christ as members of this congregation. Attending Worship services at Trinity is Step One.
INQUIRE: At this point you may have some questions about the congregation. You may want to set up a time to meet with one of our pastors. You can simply introduce yourself before or after a worship service and then the pastors will be happy to set up a time to meet with you. You can also email the pastors with questions or to contact them. If you do not have any specific questions you may be ready for Step Three.
ENROLL: Enroll in a New Member Connection Gathering. These gatherings are held twice each year, one in the Fall and one in the Spring. The Connection Gatherings allow anyone interested in joining our congregation to go through a time of orientation to our congregation. New Member Connection Gathering dates and times will be printed in the worship bulletin as well as our newsletter or on our website. You can also call the church office to find out when the next Connection Gathering will be (office phone 715-362-4258).
• Session I— We will talk about the source of our mission as disciples of Jesus and the foundations for our ministry at Trinity.
• Session II— Orientation about the facility and the opportunities to serve through the ministry of Trinity.
These sessions allow the Pastors and Board of Witness Members to get to know new people in a more intentional way. The sessions are designed to help you see that you are not just joining a church but that you are joining us in mission to serve Jesus.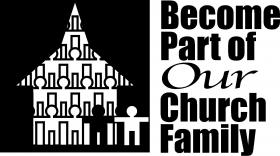 BECOME: Attend the worship service on New Member Recognition Sunday. At this worship service you will be formally received as a member of our congregation.
*A pre-requisite to membership in our congregation is to be baptized. If you have not been baptized you are still welcome to begin the membership journey. Please inform the pastor so that you can discuss the life changing Sacrament of Holy Baptism. We do recognize baptisms where water is used (either by immersion, pouring, or sprinkling) AND are done in the name of the Triune God: the Father, the Son, and the Holy Spirit. If a child in the family has not been baptized please let the pastor know in the New Member Gathering. Children whose parent(s) join the church will become members along with their parent's household.
If you are interested in becoming a member please
or call/stop into the main office to let us know you are interested in becoming a member so we can include you in the next session. You may contact the main office at 715-362-4258.