Serve In Worship
We encourage participation in the life of our faith community and want to support you as you step into serving. There are several areas where you can volunteer to help at church with our worship services.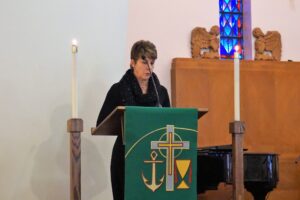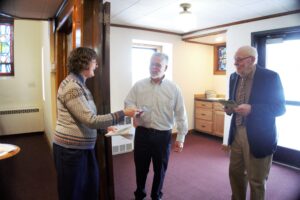 Assisting Minister
♦The Assisting Minister works alongside the Pastor to help lead parts of the worship service on Sunday mornings. Training is required for this position and is provided.
Power Point Operator
♦The PowerPoint Operator advances the slides on the big screen during worship on Sunday or Wednesday. Slides are advanced with a simple to use remote controller. Training is provided.
Scripture Reader
♦Read the appointed Bible passages aloud from up front at the reading stand. The reading is sent via email in advance to aid in preparing for service.
Livestream Operator
♦Operate the Livestream, which streams to YouTube, during the Sunday morning service and occasionally special services. Basic computer skills are needed and training is provided.
Usher
♦Ushers have a variety of duties before, during, and after the Sunday worship service. They had out bulletins, greet attendees, keep track of attendance, turn on and off lights, etc. Training is provided.
Altar Guild
♦The Altar Guild assists behind the scenes by setting up the chancel area for worship and putting out needed items for communion and baptisms. Training is offered by serving with a mentor.
Go to our SIGNUPGENIUS page to get started