SUNDAY WORSHIP @9:30AM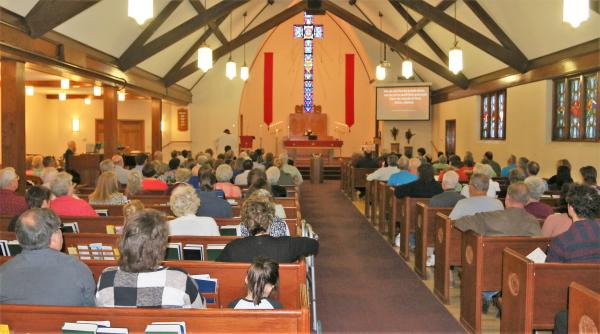 A Joyful blend of traditional and contemporary
Our Sunday Worship is a blend of traditional with contemporary components. If offers a joyful time of singing familiar as well as early contemporary songs. Here is a sample of what our Sunday Worship Service looks like:
• We project the words to songs on a screen • The choir often sings for special music • Pastors preach outside the pulpit • We include liturgical pieces throughout the service • We celebrate Holy Communion EVERY Sunday • We sing a mix of traditional and early contemporary songs • Music is lead by the piano or organ, and a vocal song leader
Holy Communion
Here at Trinity Lutheran Church all who have been baptized and affirm with us that Christ is truly present in the bread and wine are welcome to participate in Holy Communion. Holy Communion is served by intinction which means you will receive a piece of bread (or wafer) and then you dip it into the chalice (cup that holds the wine). As part of our communion practice we also offer grape juice and gluten free wafers. The grape juice is in the same chalice as the wine and is "white" or clear in color, the wine is "red" in color. Children who have not received their first communion may also come forward and receive a special blessing.
Nursery Care
While children are ALWAYS welcome to be in worship we offer a nursery option if it is needed. The nursery is staffed on Sunday morning from 9:00AM–10:30AM and is located in the lower level. Your child can be brought to the nursery at any point during the morning worship service. A sign-in and sign-out is required when using the nursery.